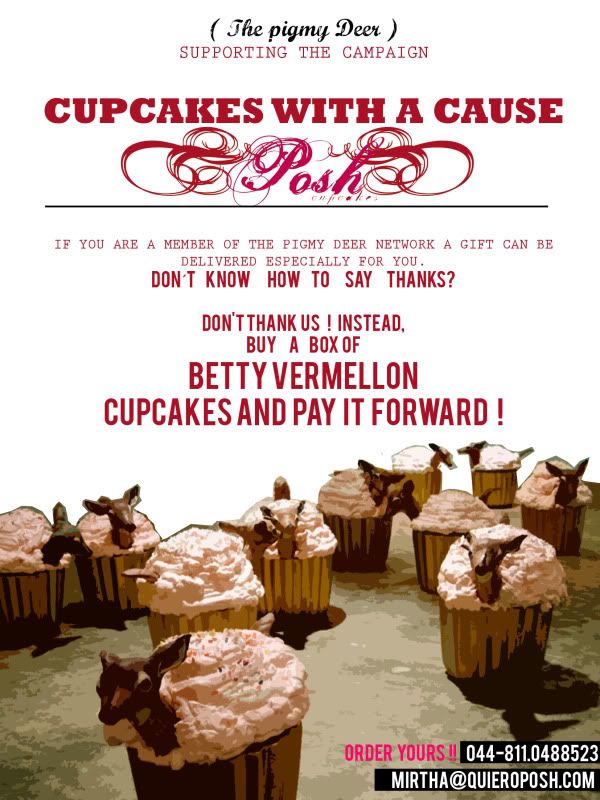 In México, creatives from every discipline are emerging. Art,cinema, fashion, editorial, graphic, music, edible. Yes. Edible Design is one of the territories conquered by Mexicans.
Mirtha de la Garza, is conquering it all. She is the definition of THE mexican "culturator " of the moment. This entrepreneur , with studies in Graphic Design, Architecture, and a master degree from one of the most prestigious Barcelona´s University : Politénica de Catalunya, one day decided to start a delicious trend, the
POSH CULTURE
: cupcakes, packed in specially designed BOX, wrapped in pink ribbons: a true fashion collectors item. That´s not all,
POSH Cupcakes
appearance in NYLON magazine and
Urban Outfitters BLOG
thrilled us.
Mirtha is part ( since august 2008) of
The First Mexican Talent Stock crew created The Pigmy Deer Network: a virtual social net made in México, in aims of creating and connecting creatives and publish their work worldwide.
POSH, is the official brand of this collective, and this year, started a program in social aid and fund raising:
CUPCAKES WITH A CAUSE.
We are taking part of it , too.
" Mirtha "Posh" is not only a friend and creative advisor for us in the enterprise, she is also a strategy designer and a model entrepreneur , is a must for us to keep her close and support her project . It´s an honor to have her as Member of The Pigmy Deer Network Stock. She´s gold. "
Eva Guerra Lujan, Founder of The Pigmy Deer Network.
WE SIMPLE LOVE POSH.