Gabriela Maciel
A brazilian contemporary artist, born in July 29 th 1977 in Rio de Janeiro, Brazil.Gabriela has been exhibiting since 2000. Using diverse medias such as Painting, sculpture, installation video and photography. The artist passed through different fases in her production, that started in the late 90s. Gabriela's artistic concepts of creation moved from expressions of a conturbate world of social disparities and a sense of displacment, to historical clashes of culture and hibridisms. Her works are filled with the idea of physical transformation by deconstruction and reconstruction to the fluid influence of bodily movements, converted into palpable matter. Gabriela breaks the boundaries of artistic expressions in many senses. Converging high-tech and low-tech, as well as collaborating with artists from several fields worldwide.
Shanghai Zendai Museum of Modern Art /
Deconstruction and reconstruction
...............................................................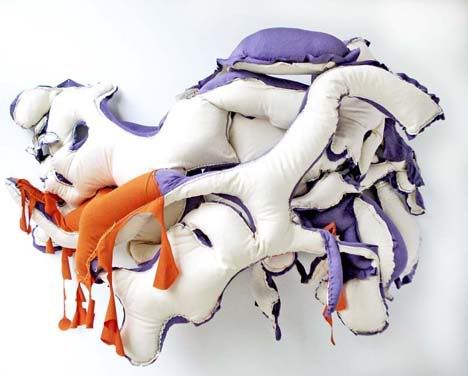 A large exhibition for the first time of this year "A Starting Point: Intrude Art & Life 366" is held at
Zendai MoMA
(Shanghai Zendai Museum of Modern Art). And the show has featured works of
Gabriela Maciel
, an artist as well as a passionate and emotional performer who creates huge installation works with a Brazilian background.
Can you tell me about your artistic process and the conceptual framework of your practice, especially the piece you produced in Shanghai?

For some site specific installations, as for the Cortex Wall of Brightness, for Intrude / Zendai MoMA, I start by making drawings of the work.Inspirational drawings and technical studies. When I start working with the material, the making process on site develops in different ways from the ones predicted in the drawings.It's a mixture of time based process, in an almost performative act on site for the passers by in the surroundings of the space in which I'm producing. The cultural influences of the country encounter my line of concept and aesthetic creation; the materials available to buy, the textures and shapes of the architecture, the time given for production, weather and sizes of the space, the way people circulate and interact with the space that I am creating the installation for. All these aspects influence the creation of my site specific installations.

In previous site specific installations, from 2003 until 2007, I've also produced on site, during performances. Those performances, in that time, were much more related to intense bodily movements, influenced by live digital sound pre recorded, mixed and played live on site. I've also worked with digital video projection, overlaying the same installation, in a different time, using the projection as the light of the performance installation, in an overlapping displacement of time and process, in the same time of the audiences immersion in the process.
Until today it is not an easy one to comprehend practice due to a profound mixture of medias in the creative process and presentation of one piece. I deal with either extremely contemporary material, produced in an extremely manual way, or extremely new techniques to transform ancient sources.The ancient and futuristic clash, time and processes are dilated, hyper speeded and sometimes overlayed.
Curiosity, "strangement", novelty, dream and weirdness can be words to describe my work.
( Continue Reading)